If you are reading this, then you probably want to try TacoLoco monetization.
To give you a quick overview you can earn in two ways:
Place a special code on your sites. It will automatically offer to subscribe to notifications to all visitors.
Get a special link with pre-made TacoLoco landing pages for collecting subscriptions and simply drive traffic to it.
Below we have detailed all of our currently available for the publishers' functionality.
And if you haven't registered with us yet – just do it now 😉
Who can become a publisher?
You can become a publisher and earn money on traffic monetization with TacoLoco if you are:
owners of web sources with sufficient daily traffic;
SMM specialists;
advertising networks;
contextual advertising specialists;
people who register domains for further resale;
Internet marketers;
media buyers;
account holders in popular social networks;
SEO specialists.
In other words, anyone who knows how to attract traffic, or has an existing informational or commercial website is our potential publisher.
Getting started
After completing the registration of your Account, you will be greeted by a Dashboard. This is where you will see the basic information on your performed actions such as impressions, CPM, and revenue.
To get started, click the Traffic Sources tab on the left.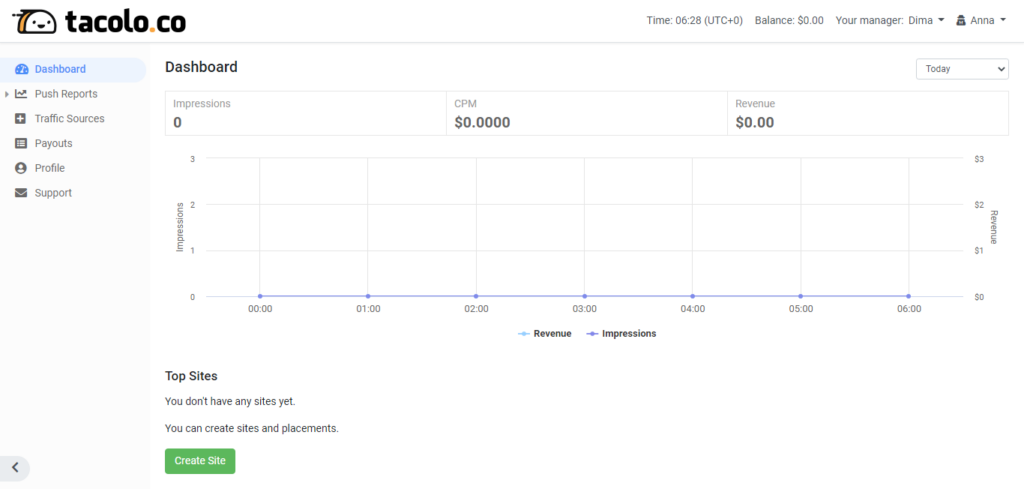 Available ways to monetize
At this point, the service will offer to choose from two methods of monetization. In TacoLoco they are called Site and Stream.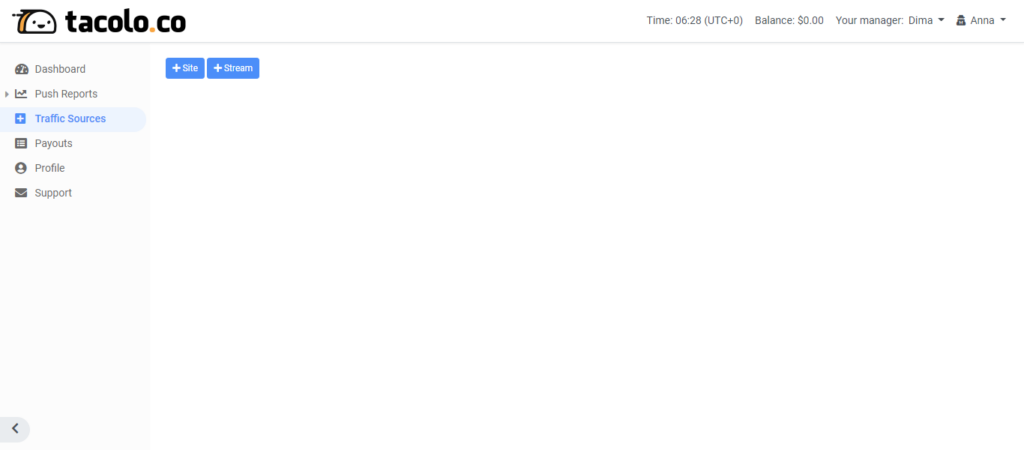 Site – you can place a special code on your sites that will automatically offer push subscriptions to visitors;
Stream – You will receive a special link that directs the user to a pre-made landing page to attract visitors and get subscriptions.
Website monetization for webmasters
If you have selected Site, you will see the following form: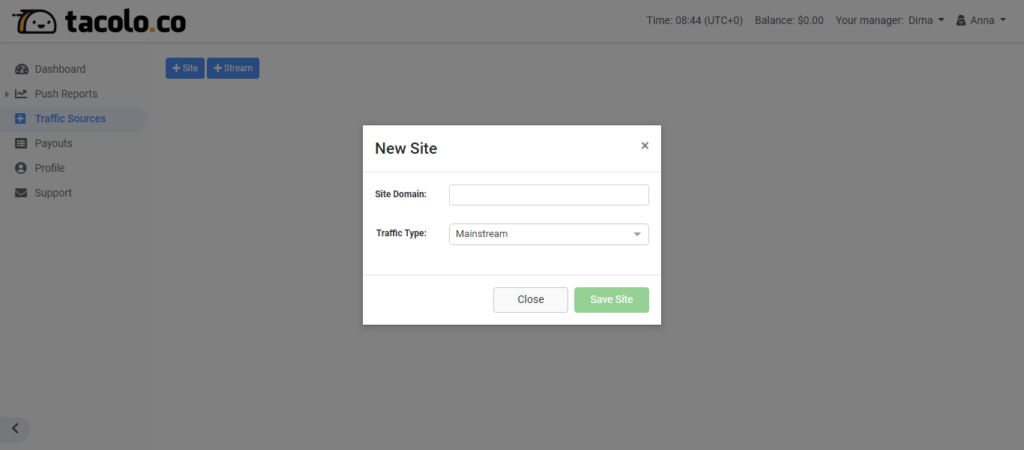 How to determine the type of traffic your website has?
In the Traffic Type field, select what type of traffic your site is suitable for – Mainstream or Dating. This service will help with the choice – when you change the Traffic Type, you will see a pop-up window with tips.
When selecting Mainstream, the service will accept any source, except Adult sites (18+ content or thematic services, adult stores), as well as dating sites.
Select Dating if your site is dedicated to dating and services, including those that fall under the 18+ category.
How to verify a domain?
The process is completed by verifying the domain when clicking on Verify. To complete this, you will either need to upload a special file to your website or place a special code on the main page of your site, so the system will understand that the site belongs to you.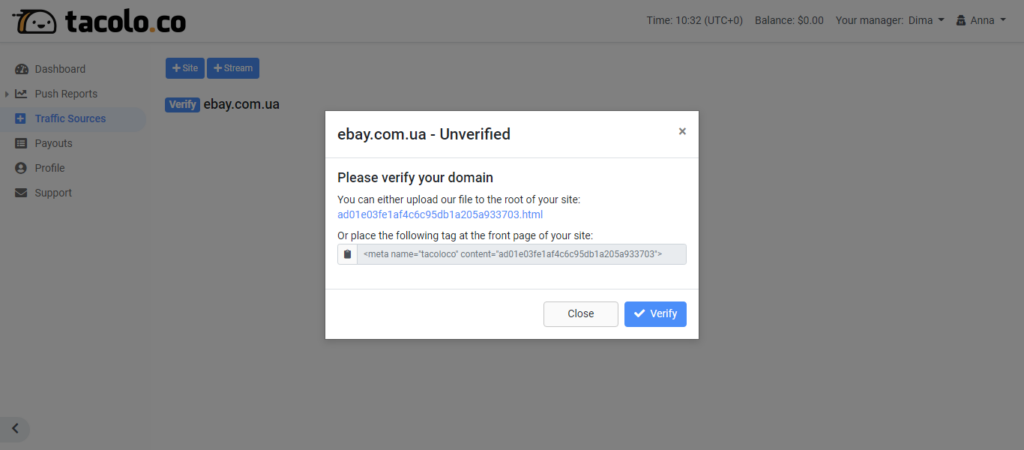 After successful verification, you will be able to see an Add Placement button. By clicking on it you will receive a special code that will need to be placed on your site. Once this step is complete everything will start working.
Monetization by using the link
If you don't have your own website or you just don't want to integrate the code, choose the Stream option. After a few simple steps, you will be able to get a link that leads to TacoLoco landing pages. Their goal is to subscribe the visitor to push notifications. The link can be placed on any of your sources and in any form – the most important thing is that the user will be able to use it.
How to get a link to TacoLoco landing pages?
After clicking on Stream, a similar window will open, where instead of the domain you need to specify the name you selected, select the type of traffic and save the entered data.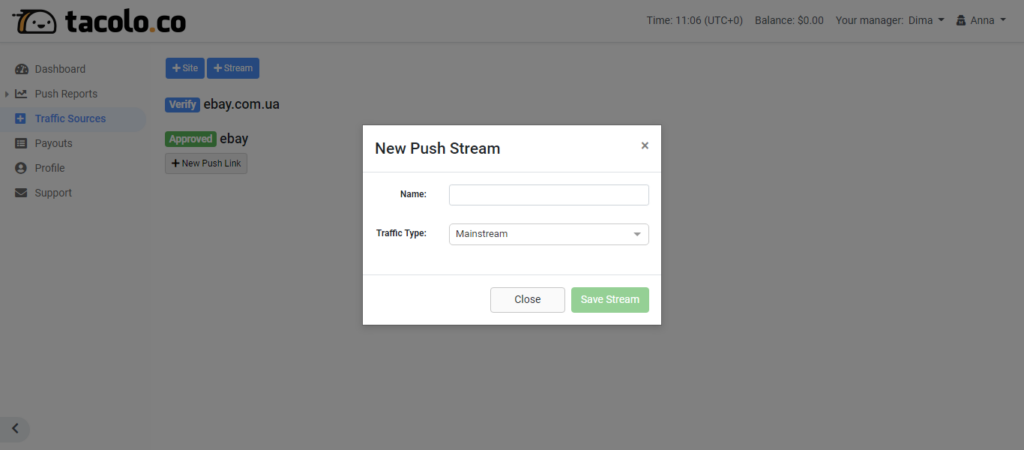 Now you can get a push link that you can apply to any of your sources or drive traffic directly to it in any way possible. By clicking on New Push Link, we get here: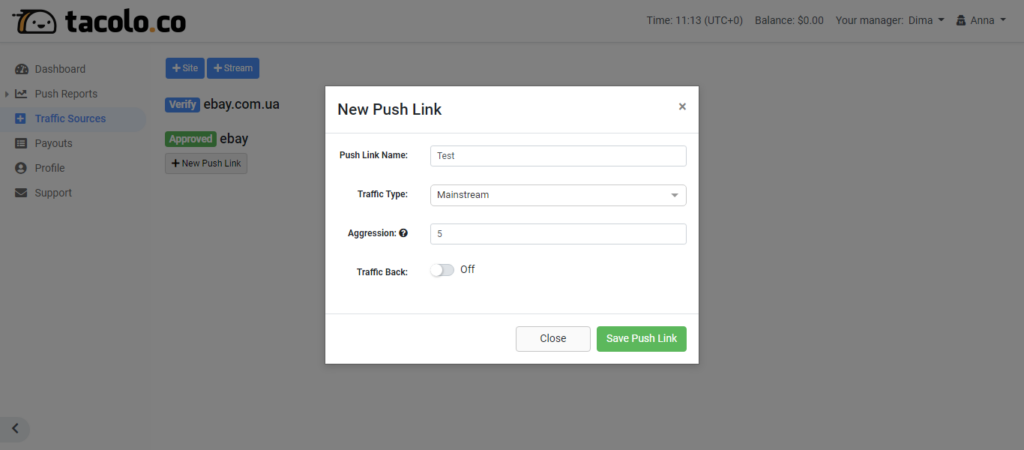 Enter the name of the link, the type of traffic, and the number of impressions from 1 to 10 in the Aggression field.
Aggression or "aggressive updates" is a parameter that shows the number of redirects with a push subscription. Simply put, if a user opens a page, sees a push notification, but does not subscribe, then auto-update is triggered, and on another page, a pop-up window will offer to subscribe again. There are no restrictions for free traffic sources, but ad networks usually allow the Aggression parameter to be set between 2 to 5.
If necessary, move the slider in the Traffic Back field to the On position.
Traffic Back or reverse traffic is a great way to monetize residual traffic – visitors who did not subscribe to push notifications.
How does it work? After showing the visitor an offer to subscribe, he is redirected to another relevant offer. Simply put, reverse traffic allows you to change one URL to another without wasting traffic. You can place any link in the Traffic Back URL column. Remember, that it is better to leave the switch in the "Off" position if the resource contains interesting informational content, and it is desirable to hold up the visitor, rather than immediately redirect him.
Next click Save Push Link. You will see a panel with created flows and push links that are placed in them. To get a link, click on it in the Push Link column: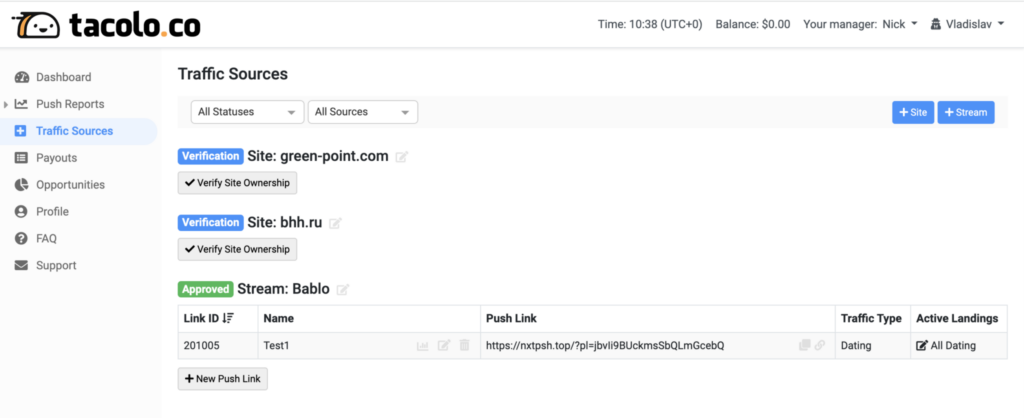 A pop-up window will appear from which you can now copy the code: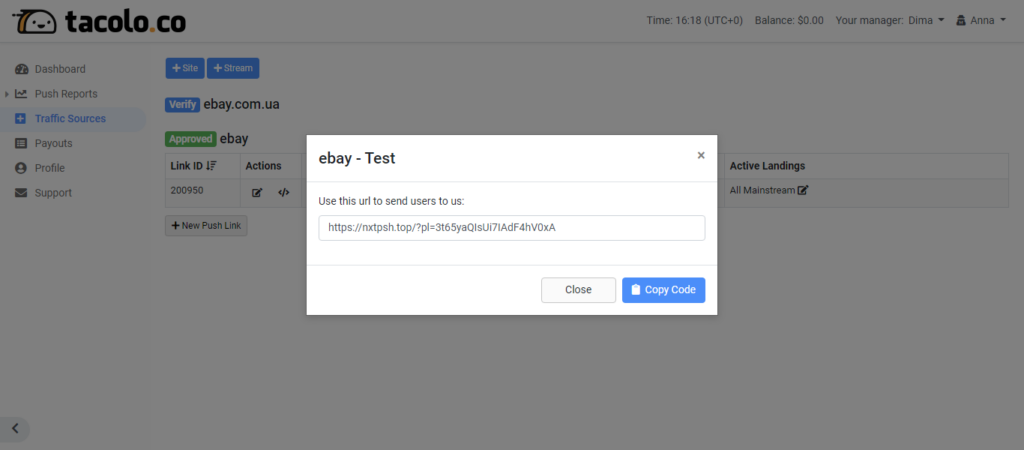 Next, just post a link to your source. Now TacoLoco will be doing the work for you 😉
How to choose landings?
An important point – in the last column that displays Active Landings, you can click on the edit icon in the All Mainstream (or All Dating) column.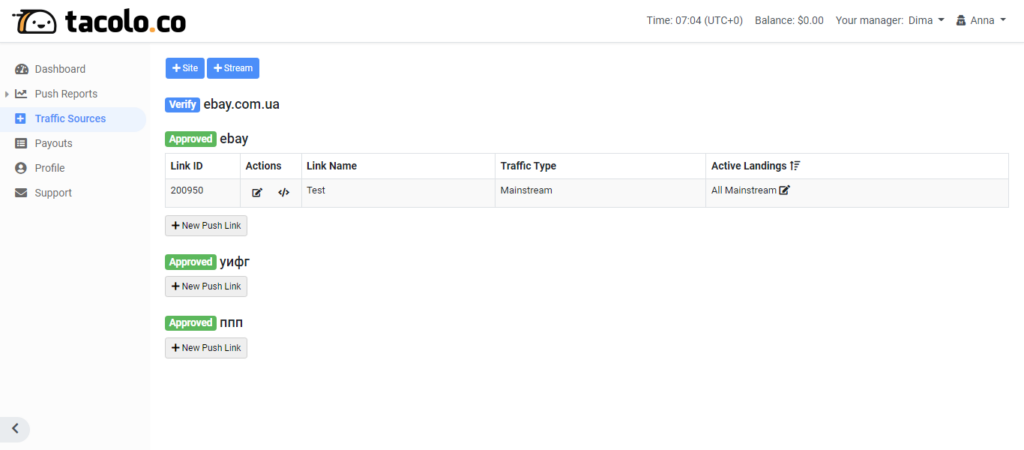 You will see a pop-up window for Select Mainstream Landings (or Select Dating Landings), where the service will prompt you to select landing pages that will be shown to the visitor when clicked on.
A Landing Page is a page with an offer that will be shown to your users. We offer you several pre-made landings. You can manage them by yourself when setting up your advertising campaign.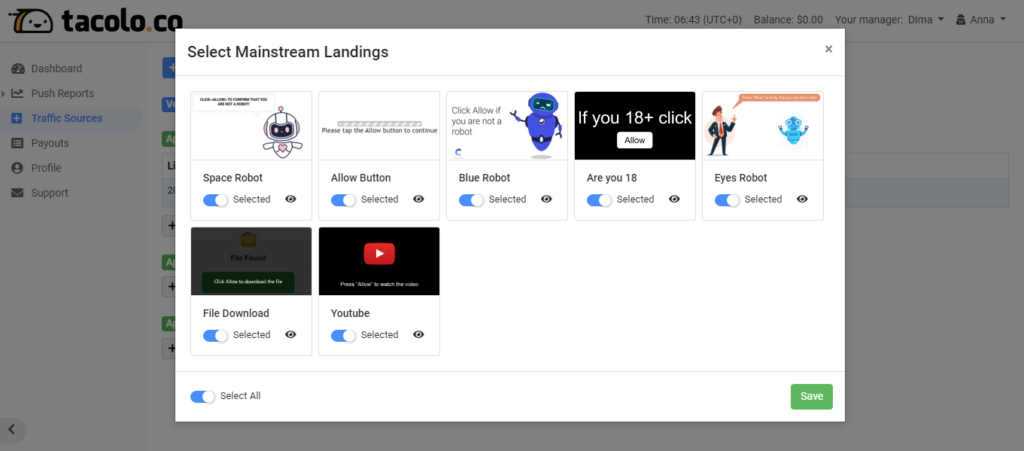 Click the icon to preview in full-screen mode.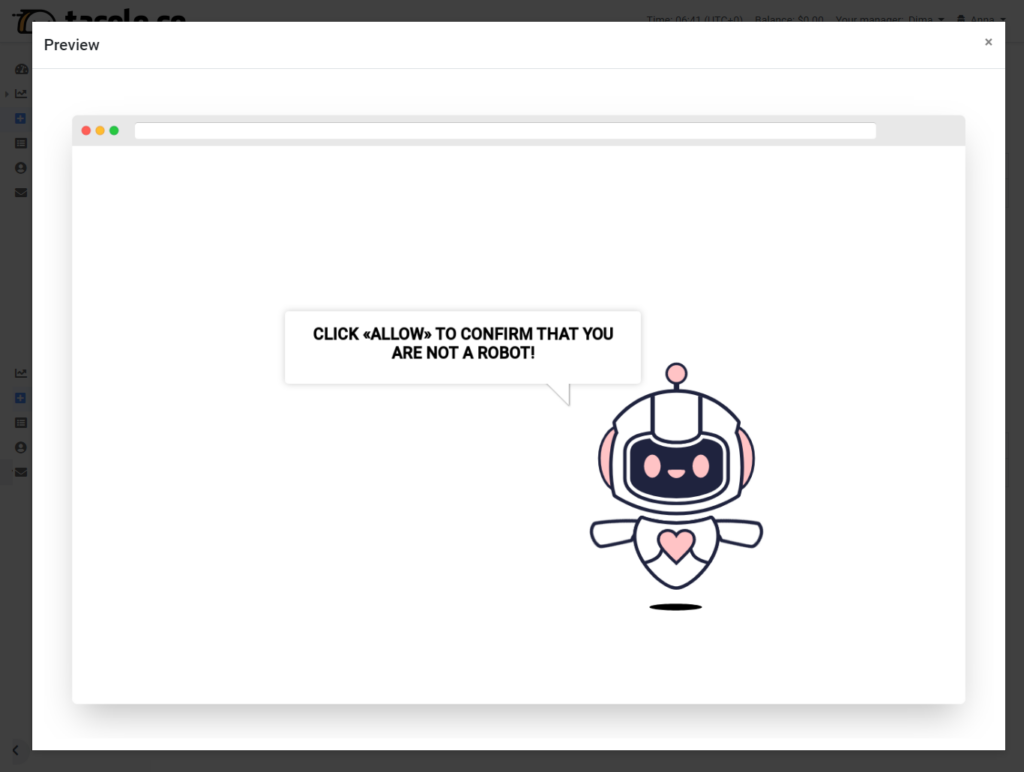 Move the Selected switch to the right under the selected landing page, or click Select All at the very bottom.
How to edit/remove a link?
To edit or remove a link, click the edit icon in the Action column.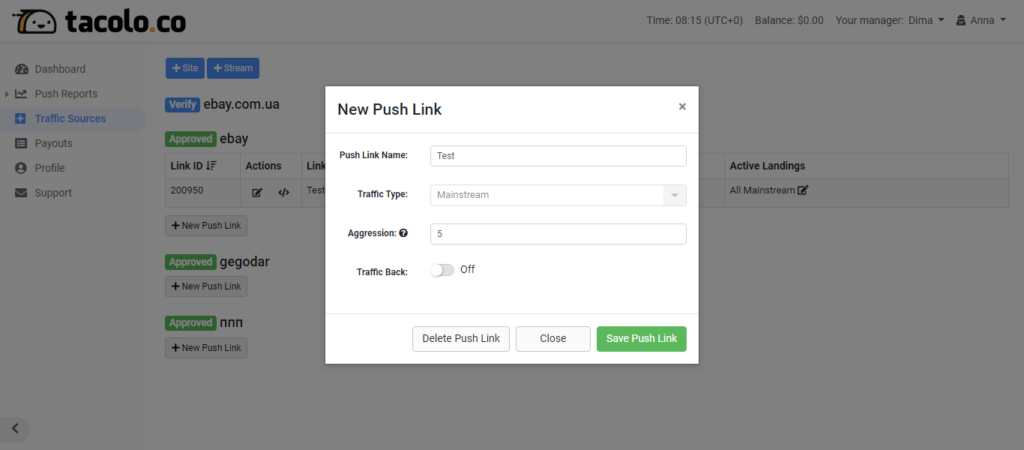 Make your changes, click Save Push Link to save or Delete Push Link to remove the link. To leave unchanged – Close.
How to withdraw funds?
In the Payouts section, you can find information about payouts received for the week (from Monday to Sunday inclusive). Money is transferred every Tuesday from 09.00 to 18.00. The minimum amount for withdrawing funds through WebMoney, Capitalist, Paxum, and Perfect Money payment systems is $100. You can also use Wire Bank Transfer to withdraw $1,000 of income earned. There is no hold period 😉
To receive payments, you need to enter your payment details. To add or change billing information, please contact the Support Team. Details will be saved for future payments.
Please note that if your income has not reached the minimum threshold, we will not be able to make a payout!
"Opportunities" Option
In the Opportunities tab you can see LTV. LTV (Lifetime Value) is the approximate average income from one subscription push during its life. This value may vary depending on traffic quality and other parameters. Actual income may differ from the indicated amount.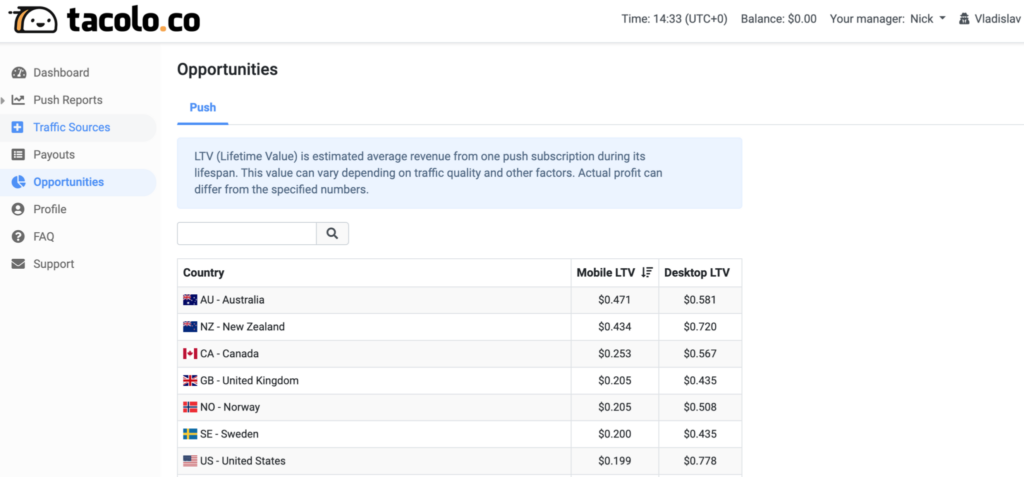 Detailed FAQ for publishers
We have created an extended FAQ on issues related to monetization. It contains detailed information on working with different verticals, setting up a postback, API, decoding some values, etc.
When is the right time to start monetizing your site's traffic?
In general, you can start monetizing your site's traffic with any number of visits – even if we are talking about very small numbers.
The result will scale with traffic. We recommend aiming for 1000 visits per day. With an indicator of 10,000, you can have quite a tangible income. Of course, the numbers are approximate – a lot depends on the theme of the site and other parameters.
A quick start in SEO traffic monetization is to buy a pre-made, well-promoted resource with good daily traffic.
How much can you earn?
Formally, there are no limits to income from traffic monetization with TacoLoco. By placing the code on your source or using a link to our landing pages, a webmaster can significantly increase the monthly income.
Earnings from traffic monetization are generated by RevShare, which means that you will be receiving monetary rewards throughout the life of the push subscription. You can see the approximate income from one push subscription here.
What can affect monetization?
Your income from traffic monetization directly depends on the conversion rate (CR), which in turn is influenced by the following factors.
traffic quality – your target audience should be relevant to the offer, that is, potentially ready to subscribe to push notifications;
GEO – the rate per click in Tier1 countries is higher than in Tier2 and Tier3, but it is more difficult to work with the Western audience;
support for the mobile version of the site – today mobile is almost twice as large as desktop, so your resource must be adapted for mobile devices;
social networks – this channel definitely should be used to increase traffic to the site or as an independent source of monetization (relevant for monetization by link);
ad blocking – to bypass the blocking of pop-up notifications from search engines, you can use special software;
relevance – follow trends, and analyze the audience's interest and seasonal factors to offer the audience what they need here and now (relevant for monetization via the link).
How to improve website monetization?
The site will monetize more efficiently if you constantly work to improve and promote it, attract new users and take care of existing ones.
fill the site with quality content – competent, unique, readable, and relevant;
optimize download speed;
adapt to all types of devices;
work on the popularity of the source;
interact with the audience;
improve usability;
place ads in a way that does not annoy users;
do not turn your site into a dump, post only those offers that are relevant to the interests of your audience.
How to contact support?
If you have any questions or difficulties while working with the service, please contact the Support Team. Simply, go to the Support tab, specify the subject of your request in the Your Subject field, describe your problem in more detail in the Message field, and click Send Message.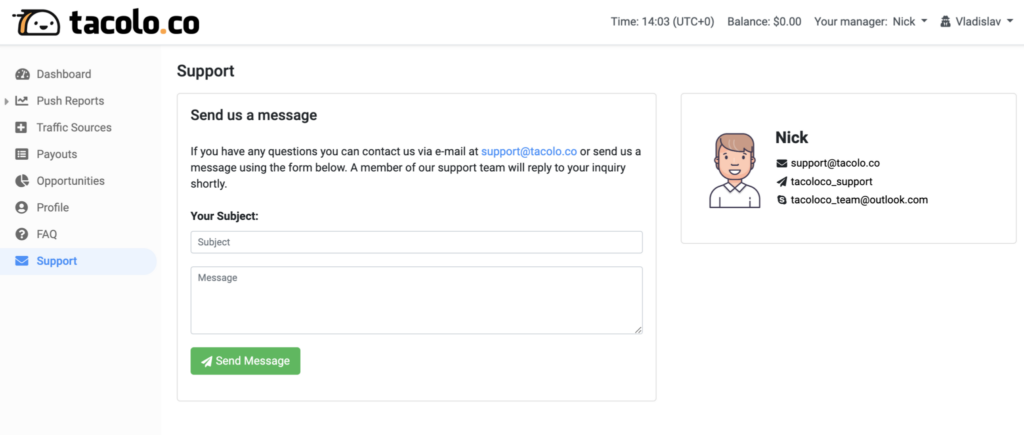 Or you can contact your account manager by clicking on the arrow next to Your manager "Name" in the top panel. You will see a drop-down menu with ways to contact a member of our team.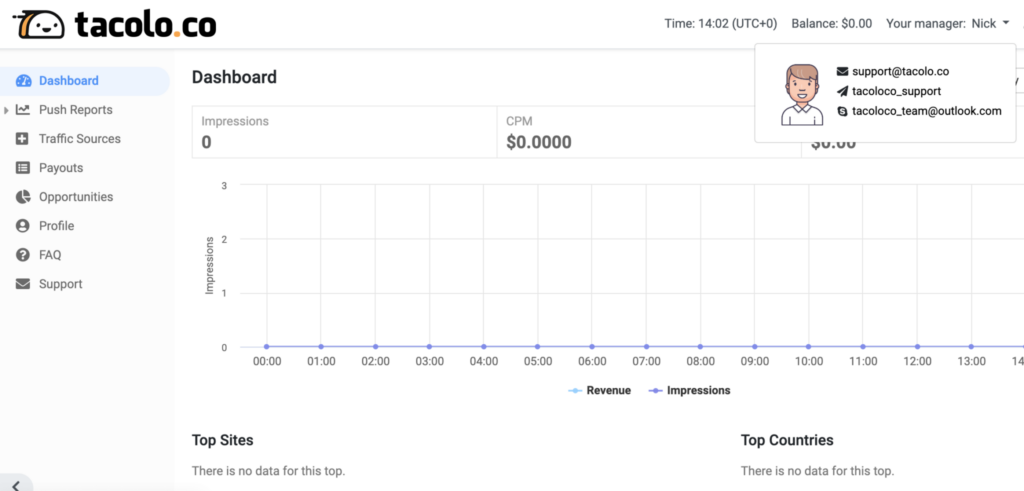 Choose a communication method convenient for you: Telegram, Skype, or email. A corresponding window will appear, and the browser will offer to go to the messenger.
You can also email your question to us at support@tacolo.co. Rest assured that we will not leave your request unattended and will give feedback as soon as possible 😉
Start monetization with TacoLoco.