As evident from the case title, our discussion revolves around a method of traffic monetization with TacoLoco. The platform offers several options:
1) Classic push subscriptions. This method has long established itself in the market, with many webmasters working with it.
2) In-Page Push. A new variant that just recently became available to all TacoLoco publishers.
Now, let's look at each method in more detail.
Push subscriptions.
First, you must choose how you want to send traffic: to a pre-made TacoLoco link (Stream) or your personal website(Site).
Let's say you have traffic (which you buy in networks, get from social networks, applications, forums, etc.), but you don't have your own websites. In this case, it is recommended to choose "+Stream".
Next, you will be asked to select the type of your traffic: Dating (18+) or Mainstream.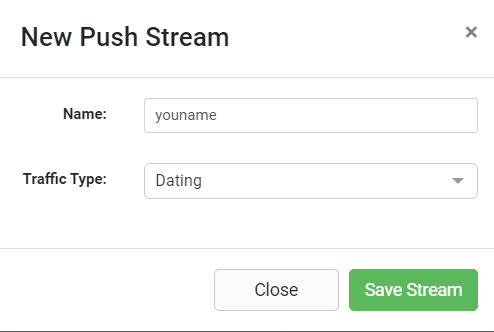 The next step is choosing the landing pages to which the traffic will be directed.
You can choose any number of landings.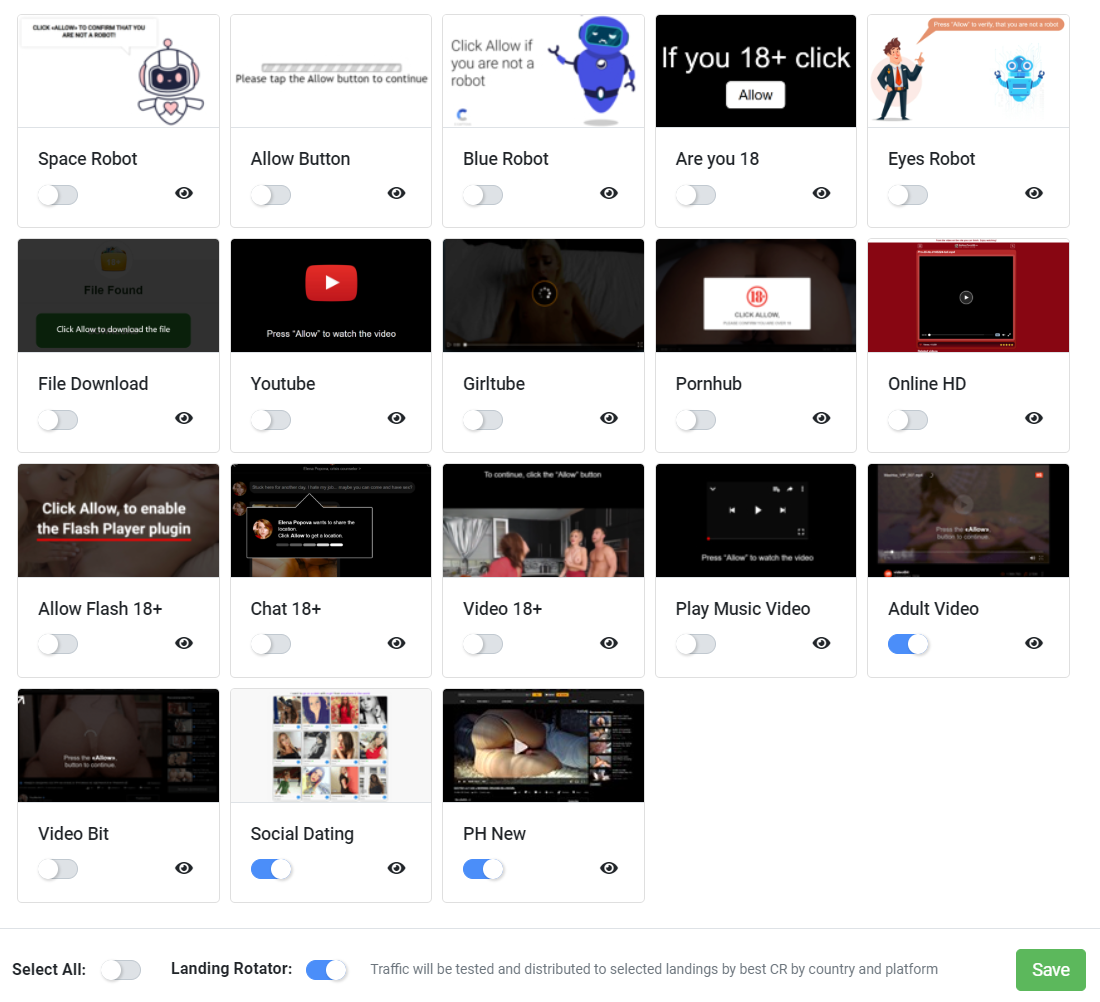 Automatic rotation is also available: the system will automatically redirect more traffic to those landing pages with the best performance.
Once you've set up everything, you'll get a final link to use in your traffic source.

In the statistics tab, you can monitor the results. It is possible to look at various factors such as landings, GEO, devices, etc.
Observing initial outcomes requires patience. This method of monetization thrives over time. However, the collected base can yield lasting gains(even if you stop sending traffic). If you want a faster result, you should pay attention to In-Page Push, but more on that later.
TacoLoco also has an Opportunities section, where you can choose the GEOs that may intrigue you the most in terms of profitability.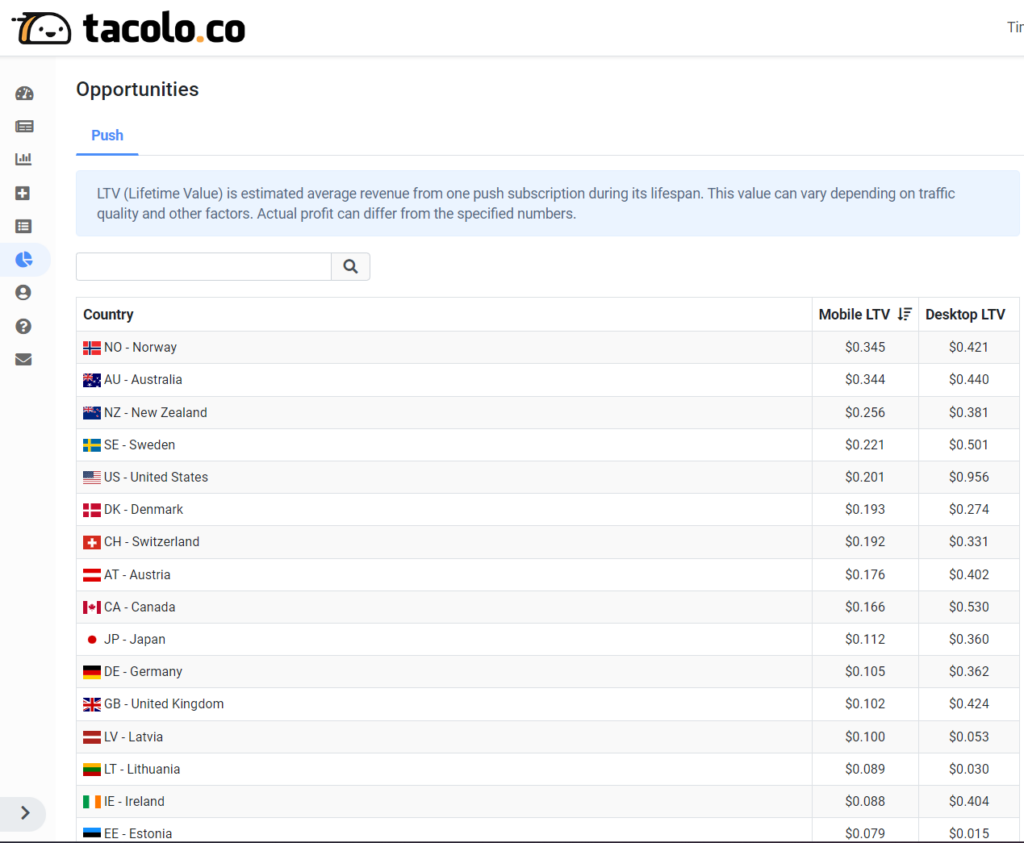 Let's move on to the next option. In this case, you will direct traffic to your sites. Let's take a closer look because this is the option that I actively use in my work.
First, you need to create a script that will be used on your sites.
Select "+ Site".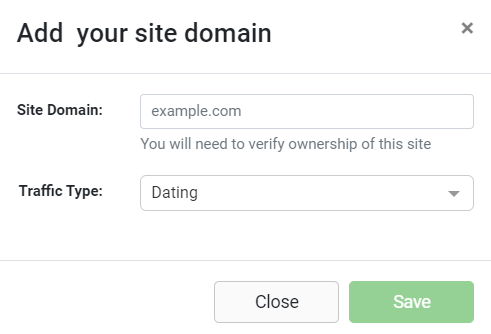 Add your website domain and traffic type. Let me remind you that Dating is suitable for adult traffic.
Next comes the flexible configuration of the future script.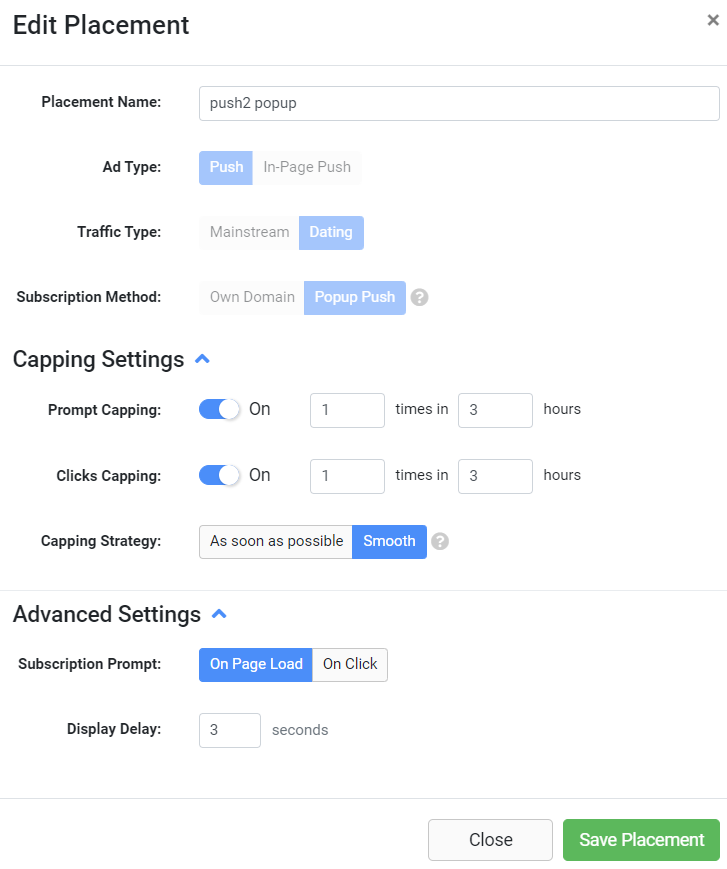 More details on each setting:
The title is clear 🙂
• Subscription type – push or in-page (in this case, choose push)
• Traffic type – Mainstream or Dating (for 18+ traffic)
• Subscription method – domain subscription or pop-up subscription. The second option appeared recently; its focus is a longer life of your domain (and, as a result, push bases)
• Impression settings – frequency and speed of ad impressions in your database
• The display option – at the time when the site loads (you can choose when push will be displayed) or on the first click.
We save all the settings and get the script, which we will continue to use on our website.
Now, I'm testing a pop-up subscription, but I recommend using both methods at the initial stage. Only through testing will you be able to understand which method will bring the best results.

I use my own sites as pre-landers. Let me expand on this a little.
My main vertical is Dating. I buy traffic in networks (ExoClick, TacoLoco, TrafficStars, TrafficJunlky, PropellerAds, and others) and then redirect them to dating offers from different advertisers. To warm up the audience, cut off unsuitable traffic, and get additional income, I use my own sites (pre-landers). It is on these pre-landers that I place links for collecting push subscriptions.
I usually use about 20-30 sites through which traffic flows. I also regularly add new ones and periodically update old ones. All pre-landers have been added to the tracker, which allows you to view statistics for each of them and redirect traffic to those that show the best performance.
The daily volume of purchased traffic is always different. Many factors, such as GEO, cost, and competition in auctions and networks, can influence this. Recently, on average, it is possible to redeem 10,000 clicks daily. You may have completely different numbers. For example, this figure can significantly increase if you work with India.
Let's continue on the technical side.
We place the script in the header of your site.

As a result, when going to your site, the user will receive a notification imitating the message of the girl from the chat. He will have two options – to refuse or give consent (highlighted in green on the screenshots). In the latter case, it will be added to your push subscription database. All you have to do is increase traffic to your sites, collect your subscription base, view statistics, optimize payback, and increase profit 🙂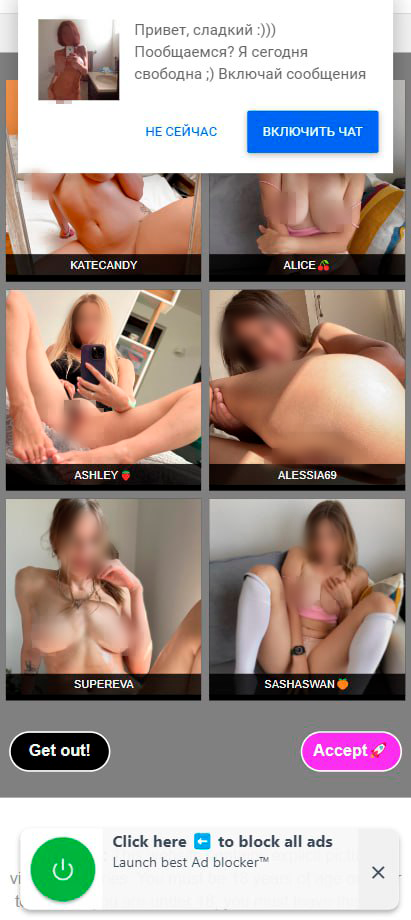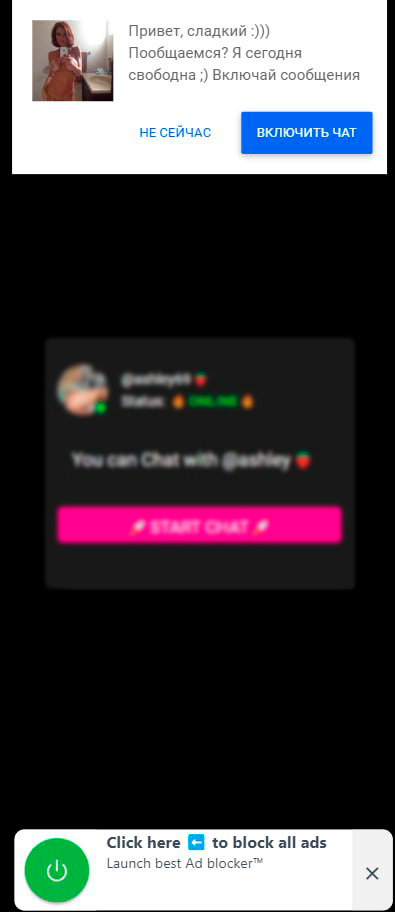 A few words about statistics.
A statistics section in your personal account shows a detailed layout in the context of different parameters – country, subscription type, domain, date, subID, etc.
Below, with examples, I will show part of my statistics report for the last 7 and 30 days.
General push statistics for a specific domain for 7 days.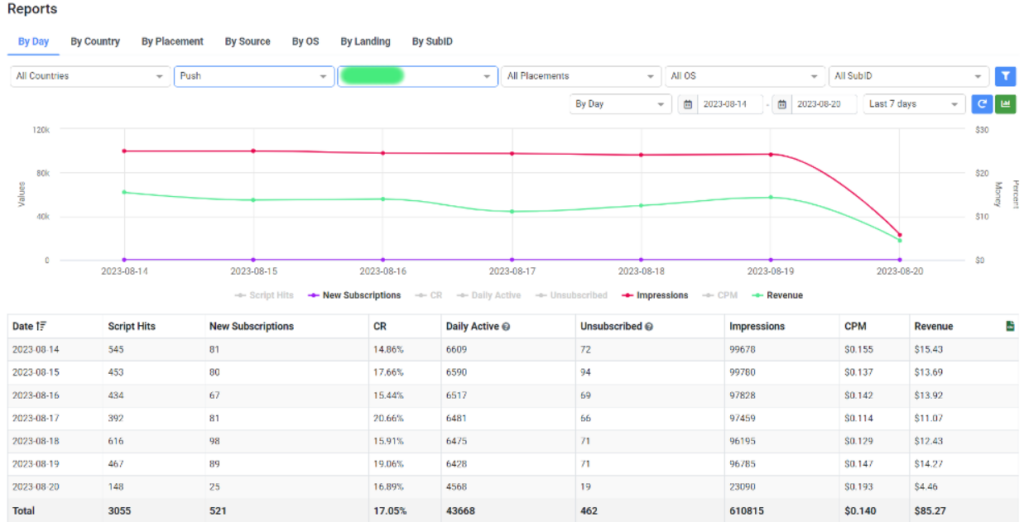 General push statistics for all countries for the last 30 days.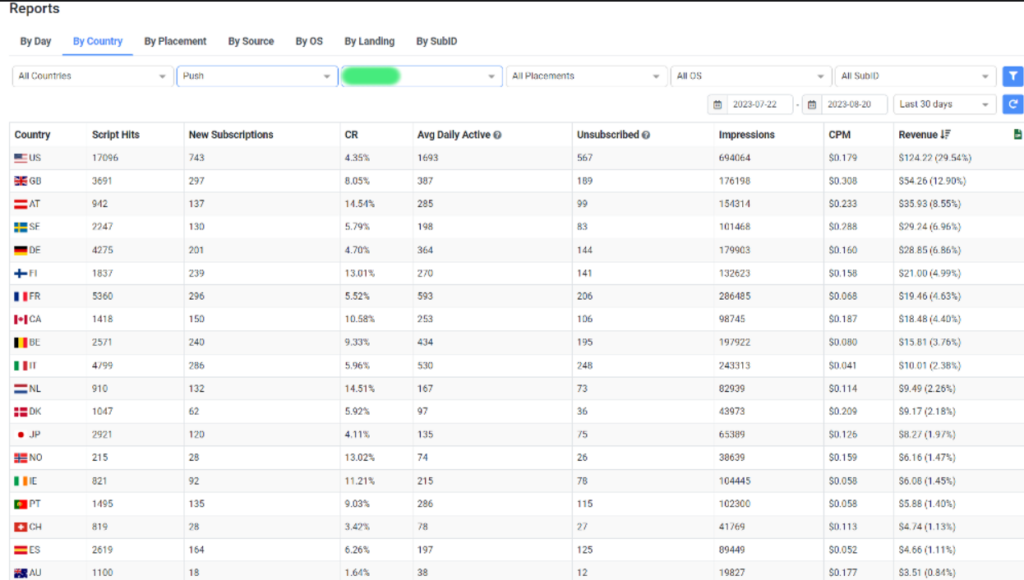 Next, consider working with In-Page Push.
Let's review the placement settings.
As with push notifications, you first need to add your domain.
Next, you need to set a name, select a type (In-Page Push), and decide on the type of traffic.
You can select two display positions – top or bottom of the page. Here, you need to test and determine which option will work better on your site.
Capping setup and capping strategy should be as fast as possible or evenly distributed over a given interval.
Next, you can configure how long the in-page will be displayed. In my case, it is 2 seconds. The last setting is the pauses, after which the in-page is re-displayed when the ad is clicked and closed.
We save the selected settings and get the code that we place on our website.


Everything is ready, and you can send traffic and stock up on popcorn 🙂
If you did everything right, when you go to your site, a pop-up notification will be displayed at the bottom or top of the page, depending on your settings. If the user clicks on the ad, you get your earnings.
Let me show you some statistics for the latest period.
General statistics of in-page for a selected domain for 7 days.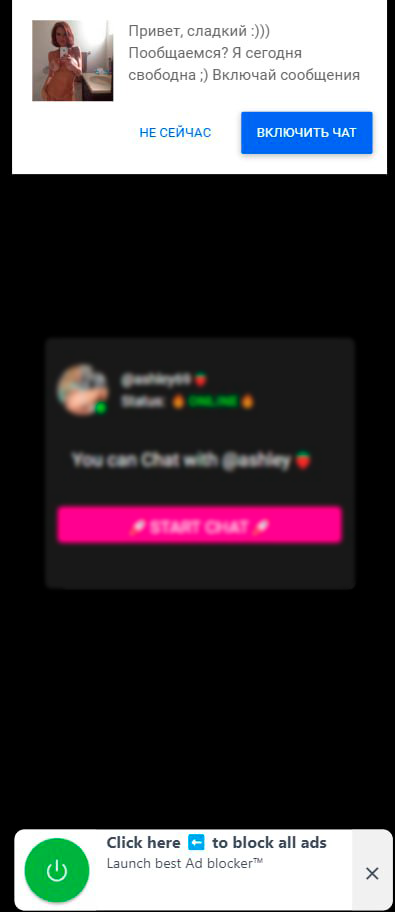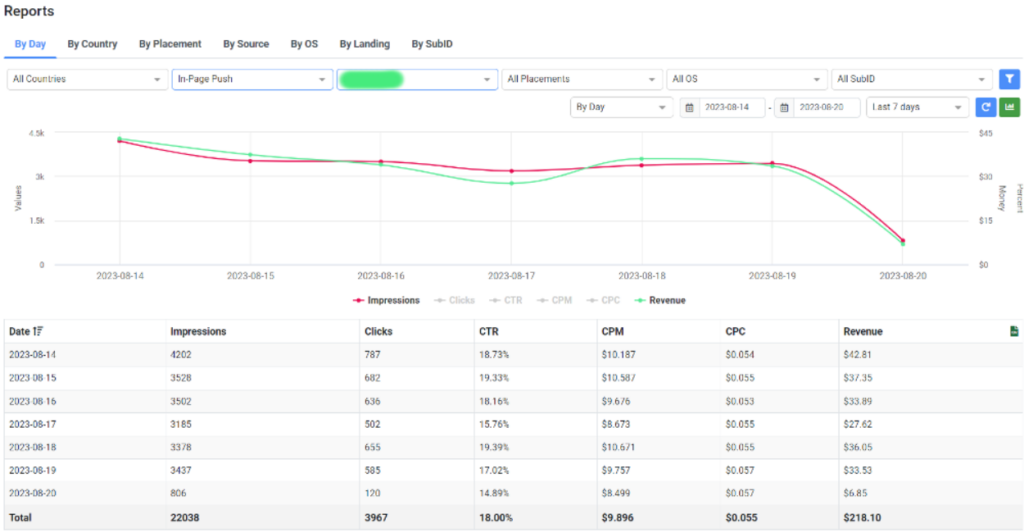 General statistics of in-page for all countries for the last 30 days.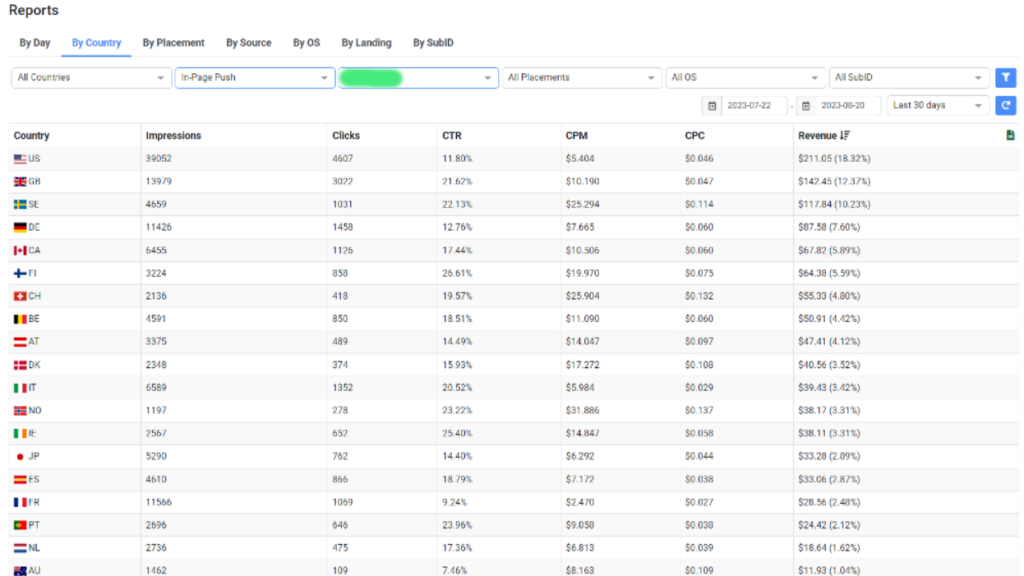 General statistics for all my sources and push types for the last 30 days.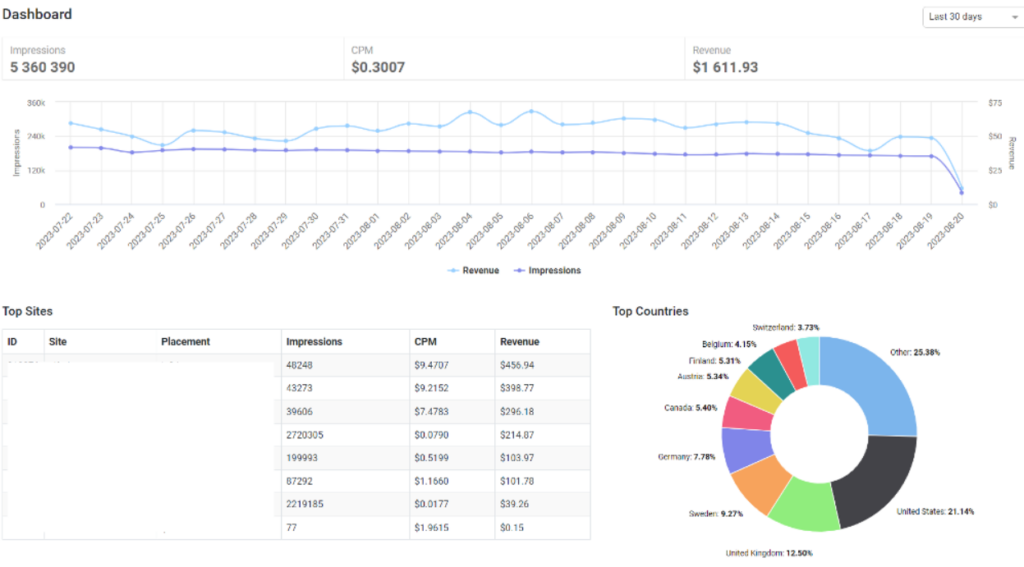 The total income was $1,612.
I want to pay special attention to the fact that I use TacoLoco push subscriptions as an additional monetization of my traffic. This is an important point. If we consider this type of monetization as the main vertical, then you can get completely different results and count on a different profit.
I trust this case will reach its intended audience and benefit both novices and seasoned webmasters. Sign up with TacoLoco and start your first campaigns. Notable, TacoLoco offers a top-tier level of support for managers where you can safely ask any questions on the topic with assured feedback.
Special thanks to my manager Jenny!
Best wishes for profitable bundles and successful cases.
Should you have any inquiries, feel free to reach out via Telegram. I'll make an effort to respond to everyone to the best of my ability.
May the force be with you!