Affiliate network: Zeydoo (with +20% to the first withdrawal for new publishers)
Offer: SM Dating App Android Prelander
Advertising network: TacoLoco (adds +$15 to the first deposit of $100+ with a promo code LETO22)
Tracker: PeerClick (with a month for free after you register through the link)
Expenses: $204
Earnings: $252
ROI: 51%
Sometimes we hear that push traffic is not what it used to be and is practically not used. So we're here to bust this myth with a brand new case from a media buyer working with TacoLoco (check out his YouTube channel here). He found a working funnel with 51% ROI that is still going strong. Turns out he didn't spend much on the tests (approximately $204), which proves that media buying is accessible to anyone willing to try.
The process is quite simple: he found the right offer, put it to the test, and received the money. Let's, now, take a step-by-step look at the media buyer's case (the rest of the article is from the media buyer's perspective).
Why this network and offer?
I've known of Zeydoo before since they've been around for a while, and I saw their new special offer for new publishers (and old publishers who haven't worked with them for a while) that gives +20% to the first withdrawal. In addition, if you spend more than $500 – $1,000 a day, you can get up to +$2,100 in your profit. They have a large variety of offers: dating, mobile apps, antiviruses, utilities, gambling, etc.
For those working with sweepstakes – here is a useful article from Zeydoo that shows how to work with this vertical during the holiday season. I used to work with it a long time ago, but didn't get great results, so I might try testing it again.
To be honest, I didn't do thorough research on the GEO or the competition (it appears that you don't need spy services that much to be earning money). When I logged in to Zeydoo, I went straight to my account manager for offer recommendations.
I was recommended SM Dating App Android Prelander. Why I chose it:
An exclusive Zeydoo offer (that immediately equals a larger ROI);
Lots of GEOs (no need to narrow down the traffic. I also chose a GEO that I've already worked with);
Android has cheaper traffic (less money spent on tests).
To get money for the offer, I needed exactly $200 to see the quality of traffic.
Creatives
Examples of creatives that I used: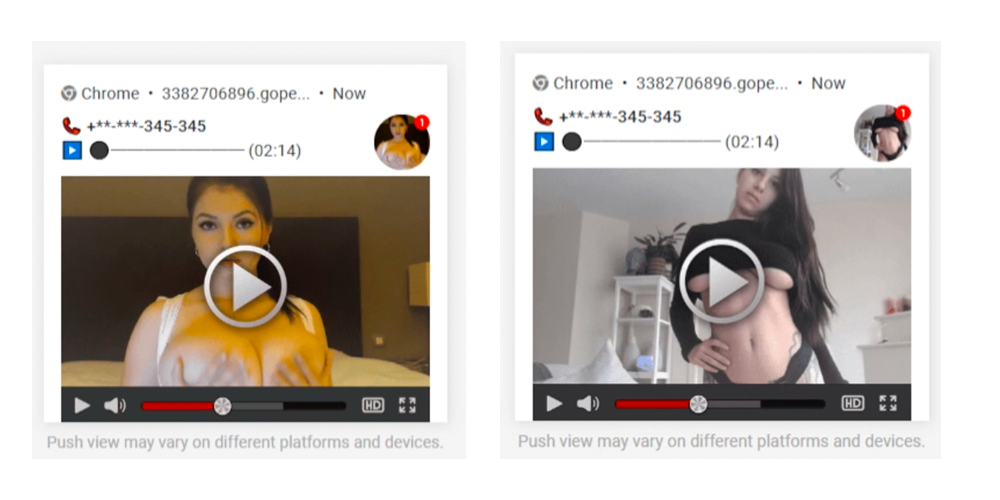 I used two approaches. One from the screenshot above: a screenshot from a video + a hidden telephone number and an imitation of a voice message. The second: is a classic dating creative with a half-naked girl hiding her face. Creatives that do not display the face help to work with several GEOs because the user doesn't see a girl's nationality and the ad will likely convert better.
TacoLoco: worth it or not?
Now let's see why I chose TacoLoco as my traffic source:
A large amount of traffic;
Perfect for newbies: simple interface, setup, and integration with a tracker;
Well-converting traffic for dating offers;
All I needed to do was to log in to my TacoLoco account, top up my balance and start testing. Obviously, I chose push notifications as my traffic type, as this was the goal of this experiment – to show that you can work with push and get your profit. No need to complicate things, just get things done.
I started testing with a wide range of GEOs: SA, IQ, PK, CO, TR (see the screenshot), starting with a small budget to see which countries convert better. Once I found the funnel I started scaling by adding new campaigns. As you can see, it's quite easy.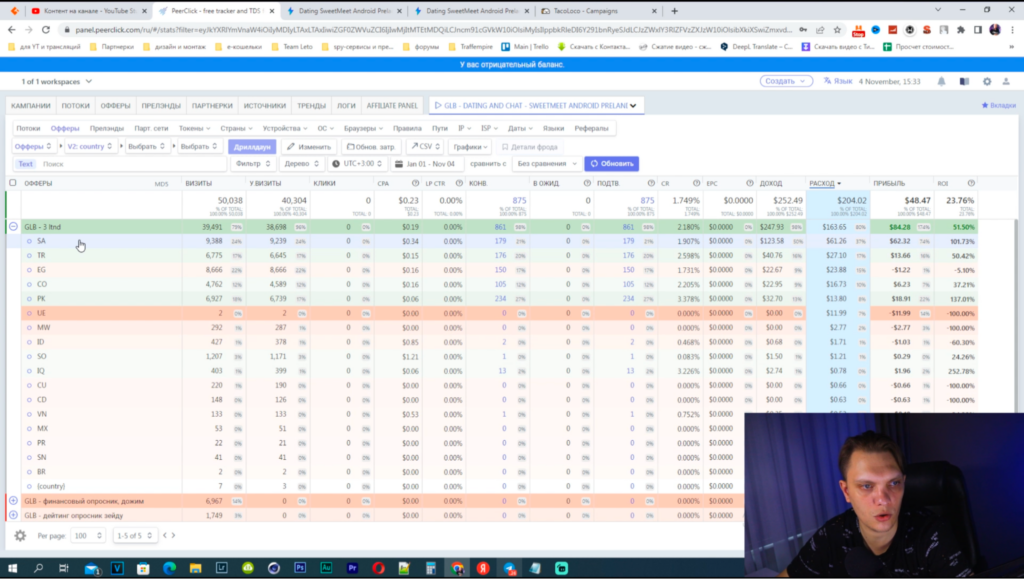 While I was testing, I also added 3 new pre-landers that Zeydoo had, two of which I turned off after some time as they were not converting well with the campaigns that I chose. This is a screenshot of a landing page with the best CR.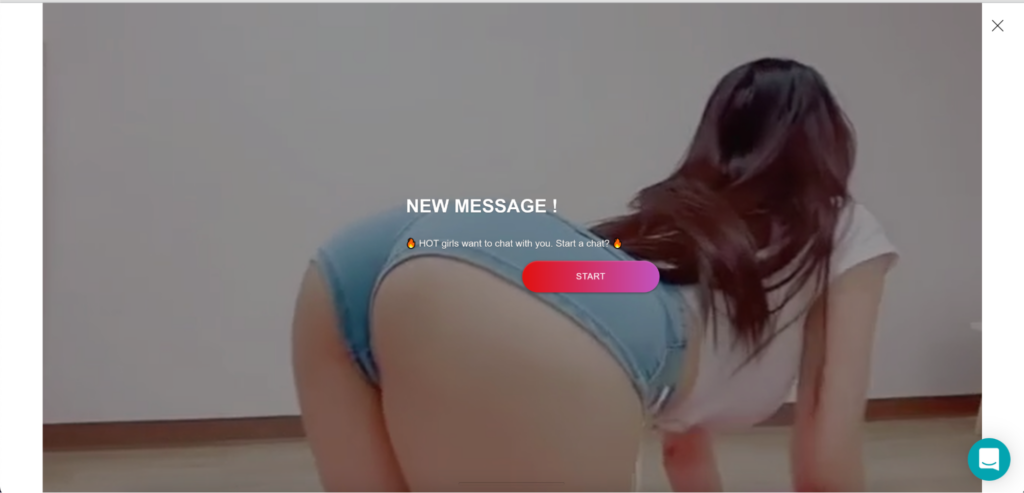 If you would like to know more about how I set up PeerClick tracker, you can go to this video on my YouTube channel (with English subtitles). The tracker gives 100,000 clicks a month for free, so check out my video and set it up with me.
Final statistics
In the screenshot, you can see that the general ROI during tests was 23%, but then I found this working funnel with 51% ROI and it's still going strong. To start making profits with push traffic and dating, you simply need to test more offers and GEOs, change approaches, and then you'll find your perfect setup.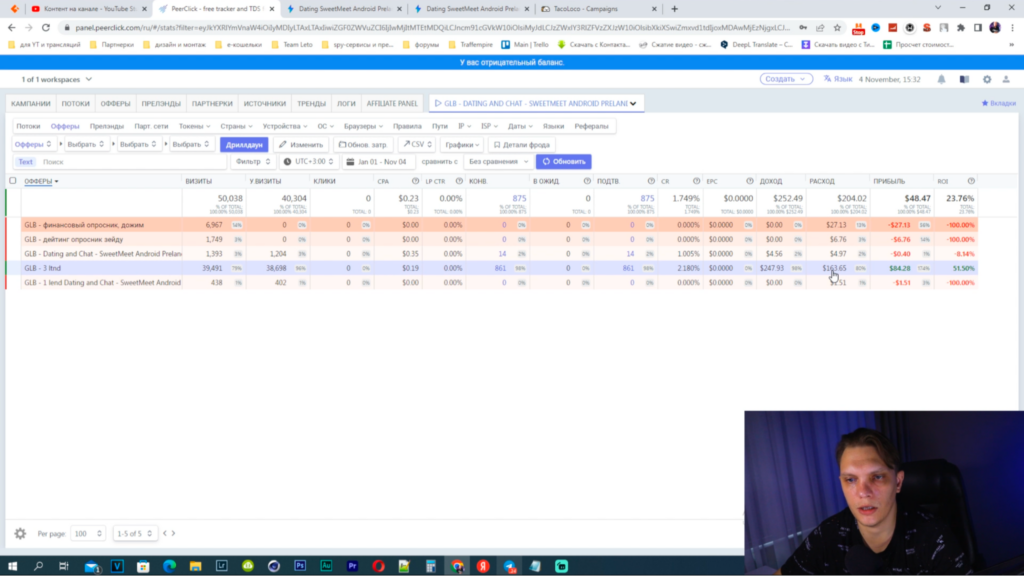 With tests, I managed to find at least 3 GEOs with ROI higher than 100% so I knew exactly what I had to do during scaling. What's more, the general profit was higher since I turned off countries that performed worse.
As you can see, it's quite simple. Simply choose trustworthy advertising and affiliate networks and start testing.